MORE SERVICES





Click on the above images to enlarge
Prototype Design and Development
Photo Realistic Renderings
We can begin with your preliminary ideas and sketches and provide you with fully functional prototypes. Our partners can generate the parts necessary to take you from concept to reality.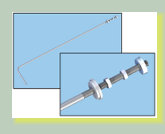 We can increase the impact of your proposals or generate images to be used for marketing. Photorealstic renderings bring your CAD models to life and help truly visulaize the final product




2D-to-3D Conversion
We provide modeling asssistance for customers making the transitions from the 2D to the 3D environment. We will convert your old legacy drawings into detailed, three-dimensional models.